Welding Accident Attorney in New York City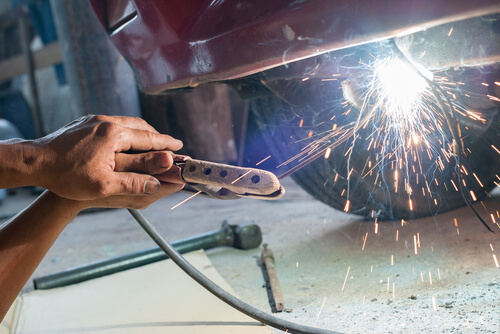 Were You Involved in a Welding Accident?
Welders perform some of the most essential work on construction sites, including assembling the fundamental structures of many buildings. However, welders also have one of the most dangerous jobs in the construction industry. Welding can easily lead to devastating accidents without proper attention to safety standards. According to the Occupational Safety and Health Administration (OSHA), 1 in 250 construction workers is involved in a fatal accident due to welding.
If you have sustained injuries in a welding accident in New York City, you deserve to seek financial compensation to help you on your road to recovery. Turn to a welding accident attorney in New York City from The Perecman Firm, P.L.L.C., for help.
With more than 40 years of legal experience, our attorneys are dedicated to pursuing maximum results for injured victims throughout New York City. We have a proven record of success that includes more than half a billion dollars recovered in settlements and verdicts for our clients. Our attorneys leverage industry-leading experts and cutting-edge technology to pursue effective case strategies to maximize your compensation.
Contact The Perecman Firm, P.L.L.C., for a free initial case evaluation to learn more about your legal options for financial recovery after suffering injuries from a welding accident in NYC. Let our welding accident attorneys advocate for your right to seek compensation and financial benefits.
Why You Need Our NYC Welding Injury Attorneys
After a welding accident on the job or at a construction site in New York City, turn to the welding injury attorneys of The Perecman Firm, P.L.L.C. Our experienced lawyers will help with the details of preparing and pursuing your legal claims, including:
Thoroughly investigating the accident and obtaining evidence needed to prove your rights to compensation
Evaluating your legal options in your case, including your eligibility for workers' compensation or a third-party personal injury lawsuit
Documenting your injuries and losses to help you pursue the full compensation you are eligible to receive
Communicating with your employer, insurers, and defense lawyers on your behalf
Preparing and filing your legal paperwork
Aggressively negotiating for maximum financial recovery for you in a settlement
Taking your case to trial if necessary to demand the compensation and accountability you deserve for your injuries
What Are the Most Common Welding Accidents in NYC?
Welding requires volatile gasses and fuel used at high temperatures. Construction workers use hot gas, sparks, or electricity to join metal beams and rods together to create the structure of a building. There are three types of welding: gas, arc, and oxygen and arc cutting. These techniques rely on molten materials that can lead to injury if not properly handled.
Common welding hazards include:
Flying metal shards
Fire hazards
Electric shock
Explosion hazards
Released gasses
Employers are required to provide suitable working conditions, with proper ventilation and safety equipment. Supervisors should make sure that only those who are qualified handle welding materials. In addition, there should always be a fire extinguisher on hand. If they fail to provide these measures, it can lead to injuries.
Some of the most frequent types of welding accidents include:
Exposure to UV radiation
Exposure to hot metals and slag
Common Types of Welding Injuries
Some common welding accident injuries include:
What Kinds of Compensation Are Available for a Welding Injury?
After a welding accident in NYC, you may have several options for recovering compensation for your injuries:
Labor Law
New York Labor Law may give you the right to pursue a compensation claim after a welding accident. Section 241 requires contractors to provide workers with reasonable and adequate protection from hazards at the worksite. The New York Industrial Code typically provides insight into what protective measures are necessary. If a worker is injured due to a lack of reasonable and adequate protection from welding hazards, they could be entitled to compensation from liable parties.
Workers' Compensation
After a welding accident at work, you can file a claim with your employer for workers' compensation benefits. The New York workers' compensation system entitles workers to benefits regardless of fault for a workplace accident.
The benefits available through workers' comp include:
Payment for all reasonable and necessary medical treatment, including pharmaceuticals and assistive devices
Reimbursement for qualifying expenses of travel to and from medical appointments
Lost wage benefits that compensate you for a portion of your lost wages if you cannot work or you experience a reduction in pay while working reduced hours or in a different role
Third-Party Injury Claims
You may also have the option of pursuing a personal injury lawsuit if the welding accident occurred due to the fault of a third party not affiliated with your employer. For example, if a welding accident occurs due to defective equipment, you may have a product liability claim against the manufacturer. Or if you suffered injuries due to a third party's negligent welding, you may have an injury claim against that party.
A third-party injury claim can provide you with compensation for the following losses:
Costs of your medical treatment and rehabilitation
Costs of long-term care and support services for temporary or permanent disabilities you've suffered
Ongoing and future losses of income
Physical pain and emotional distress
Loss of enjoyment of life due to disabilities or visible scarring and disfigurement
Steps to Take If You Were Injured in an NYC Welding Accident
You should take the following steps after sustaining injuries in an NYC welding accident to protect your legal rights:
Immediately report the accident to your supervisor or employer.
Take photos of the accident scene if you can.
Seek immediate medical attention for your injuries.
Follow your doctor's treatment instructions.
Keep copies of bills, invoices, and receipts for out-of-pocket expenses.
Contact an NYC welding accident attorney to discuss your legal options for financial recovery.
Time Limits To File a Claim For Your Injury
Remember that you have limited time to pursue compensation after a welding accident in New York. Under New York's workers' compensation system, you must notify your employer within 30 days of the welding accident. You have one year after the accident to submit a formal claim for workers' compensation benefits.
If you have a personal injury claim for a welding accident, New York's statute of limitations requires you to file a lawsuit within three years of the accident. Failing to file your claims promptly may result in losing your rights to financial recovery for your injuries.
Contact Our NYC Welding Injury Attorneys Today
If you suffered injuries in a welding accident, contact The Perecman Firm, P.L.L.C., for a free, no-obligation consultation. Our NYC welding injury attorneys can help you pursue the financial compensation and benefits you deserve.