NYC Hand Tool and Power Tool Injury Lawyer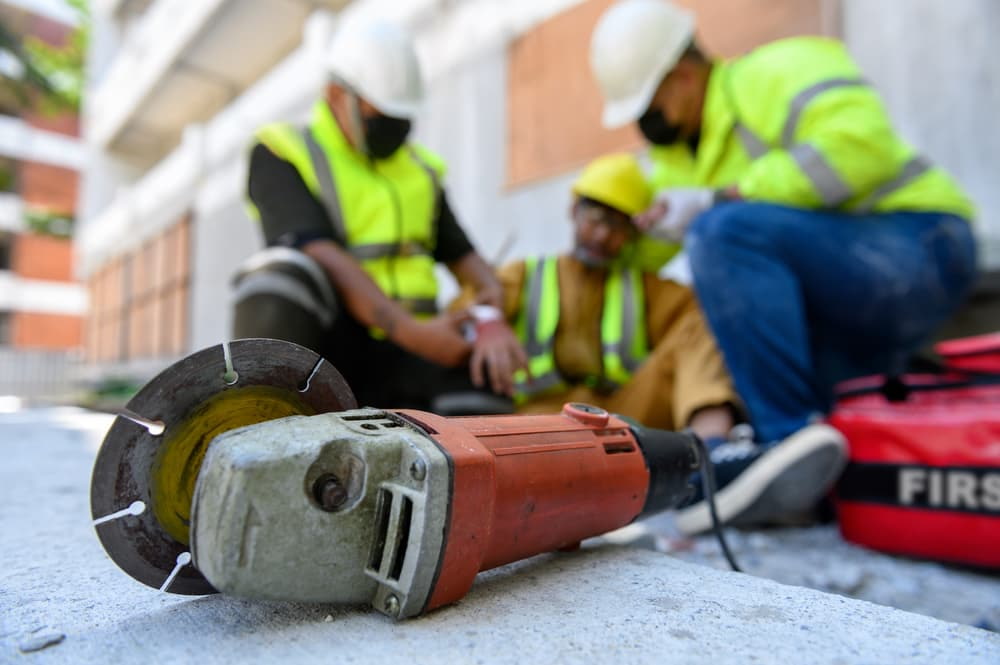 Hand and power tool injuries are common and can have devastating consequences for New York City construction workers and their families. If you suffered an injury in an accident involving hand or power tools, you need a law firm to assist you in vigorously pursuing the compensation you deserve.
The attorneys at The Perecman Firm, P.L.L.C., have over 40 years of experience handling personal injury cases for clients across New York. Our dedicated team of lawyers has recovered more than half a billion dollars in verdicts and settlements for injury victims like you. We handle more construction accident cases yearly than many personal injury lawyers have handled in their careers. Our firm stands out because of our extensive track record, vast resources, and commitment to achieving the best possible results for our clients.
Call us today or visit our contact page for a free case review.
How Power Tools and Hand Tools Commonly Cause Injuries
Both powered and unpowered tools can cause severe injuries due to malfunction, misuse, or other accidents. Some of the power tools that commonly cause injuries among construction workers in NYC include:
Nail guns
Circular saws, table saws, and other cutting tools
Impact drivers and jackhammers
Sanders and grinders
Drills and drill impacts
Chippers
Lathes and other woodworking tools
Electrical and wiring tools
Mechanics' tools
Industrial equipment
Some hand tools that can cause injuries at construction sites include:
Hammers
Screwdrivers
Wrenches
Chisels
Pliers
Handsaws
Axes
Crowbars
Sledgehammers
Knives
Power and hand tools can cause severe injuries if the tool malfunctions, workers don't use tools correctly, or other hazards arise.
Some of the most common types of power and hand tool accidents in New York include:
Power tool kickback – When a power tool, such as a circular saw, binds on the material being cut, it can cause a sudden and forceful kickback, potentially causing injuries.
Electrical shock – Inadequate grounding, damaged power cords, or the use of power tools in wet conditions can result in electrical shock injuries.
Cuts and lacerations – Sharp tools, such as utility knives, saws, and chisels, can cause deep cuts and lacerations.
Puncture wounds – Accidental contact with sharp or pointed objects like nails, screws, and drilling bits can cause puncture wounds.
Eye injuries – Flying debris, dust, and/or sparks generated during cutting, grinding, and drilling operations can lead to eye injuries when and if workers don't use proper eye protection.
Hand-arm vibration syndrome (HAVS) – Prolonged use of vibrating power tools, such as jackhammers or sanders, can cause hand-arm vibration syndrome (HAVS), leading to pain, numbness, and reduced dexterity in the hands and arms.
Noise-induced hearing loss – Prolonged exposure to loud noise from power tools and heavy machinery without proper hearing protection can cause temporary or permanent hearing damage.
Falls from height – Using power tools like drills or nail guns on ladders or scaffolding without proper fall protection can result in falls, leading to severe injuries.
Tool malfunction or failure – Defective or poorly maintained tools can break or malfunction, causing injuries due to flying parts, loss of control, or unexpected tool behavior.
Struck-by incidents – Construction workers can suffer severe injuries if a flying or falling tool hits them.
Repetitive-stress injuries – Continuous use of hand or power tools can lead to repetitive-stress injuries, such as tendonitis, carpal tunnel syndrome, and muscle strains.
Caught-in or caught-between incidents – If construction workers aren't careful or a power tool malfunctions, they might get their fingers, hands, or limbs caught in or between moving parts of power tools. These incidents often involve tools like saw blades or belts.
Common Injuries Resulting from Hand and Power Tools on NYC Construction Sites
Accidents involving hand tools or power tools frequently cause severe injuries, including:
Cuts and lacerations
Puncture wounds
Bruises and contusions
Bone fractures and dislocations
Eye injuries
Noise-induced hearing loss
Hand-arm vibration syndrome (HAVS)
Repetitive-stress injuries
Burns
Crush injuries
Sprains and strains
Concussions and other head injuries
NYC Laws that Protect Construction Workers Working with Hand Tools
Several New York laws provide legal protections for construction workers who suffer injuries from hand tools or power tools while working. The first is New York Labor Law 241(6), which says construction companies and property owners must provide a safe workplace to employees. Importantly, this law makes construction companies, property owners, and other parties vicariously liable for worker injuries on construction sites. Remember that if you are partly to blame for your injuries, your degree of fault might reduce the amount of compensation you are owed. However, you can still sue even if you are partly at fault.
Another law that applies to power tool and hand tool accidents is Section 23-1.10 of the New York Industrial Code. This regulation outlines specific safety measures for powered and unpowered hand tools at construction sites. For instance, employers must ensure that hand tools with sharp edges are not dull and do not have burrs or mushroomed heads. This law also says power tools that use electricity or compressed air must have a power cut-off switch, and all power tools must be secured appropriately and grounded when not in use.
Potential Compensation for People Hurt by Tools on Construction Sites
You may have several options for pursuing compensation after a power tool or hand tool accident. The first is to file a workers' compensation claim. Workers' comp benefits are not based on fault, but they only cover your medical expenses and a portion of your missed wages – not all of your accident-related losses.
In addition to filing a workers' compensation claim, you could be eligible to seek compensation through a personal injury lawsuit under the New York Labor Law or a third-party negligence claim. You might also have a product liability claim against the tool's manufacturer if the accident occurred due to a manufacturing or design defect. These claims allow you to pursue compensation for a broader range of losses, including money for:
The total amount of your lost wages
Reduced future earnings due to an injury or disability
Physical pain
Emotional distress
Diminished quality of life due to an injury or disability
How to Protect Yourself with Hand Tools and Power Tools
The Occupational Safety and Health Administration (OSHA) recommends you take the following measures to protect yourself while using hand tools and power tools:
Avoid carrying power tools by their electrical cord or hoses.
Don't yank on electrical cords or hoses to disconnect them.
Keep electrical cords and hoses away from heat sources and sharp edges.
Turn off or disconnect tools when you're not using them.
Keep your hands away from a tool's starter switch when you're not using it.
Maintain your tools to keep them working smoothly.
Wear appropriate clothing at work sites and avoid loose items.
If a tool breaks or sustains damage, remove it from the work site and label it "do not use."
Call an NYC Power Tool and Hand Tool Injury Lawyer
The NYC construction injury attorneys at The Perecman Firm, P.L.L.C., are fully prepared to fight for your rights and help you pursue the money you need after a power or hand tool accident. Contact us today for a free consultation.