Building Collapse Attorney in NYC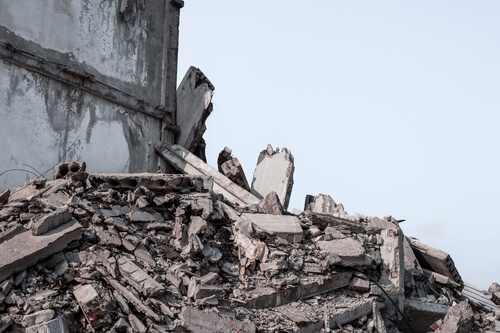 Our New York City construction accident attorneys know how to represent individuals who have been injured as a result of a building collapse during construction. It is a tragedy anytime a situation like this occurs. Whether you were injured or you lost a loved one due to a collapsed building, taking legal action is important to help you recover compensation. Do not hesitate to contact The Perecman Firm, P.L.L.C.; you might be entitled to compensation from the parties responsible for the collapse and your injuries.
Although construction work has inherent risks, employees deserve a safe work environment. You have a right to hold the responsible parties liable for your injuries from a building collapse in NYC, whether the building was in demolition, construction, or already completed.
Contact The Perecman Firm, P.L.L.C., for a free consultation with a structural collapse lawyer today. With over 40 years of experience, you can count on us to aggressively advocate for your rights and seek justice for you.
Why Hire Our Building Collapse Law Firm?
The Perecman Firm, P.L.L.C., has secured over half a billion dollars in settlements and verdicts for our deserving clients in New York. Our cutting-edge technology and straightforward approach allow us to provide the most efficient and effective representation and dependable services.
Our proven track record of success has earned us an exceptional reputation in the legal community. We have won some of the most challenging catastrophic injury cases in New York. We stand ready to put our experience and resources to work for you.
Why Do Buildings Collapse in NYC?
Buildings can collapse for multiple reasons. Various circumstances can compromise structural integrity, damage construction materials, or lead to premature failure.
Common causes of building collapses include, but are not limited to:
 Bad structural design – When new construction begins, they go off of set blueprints. If the structural design has faults in it, the end result can be a building collapse.
Oversized loads – If there is a heavy machine at the top of the structure or a certain aspect places too much weight on the building with not enough support, it can collapse under pressure.
Foundation failure – Building collapses don't always begin at the top of the building. When the foundation fails, it can allow the building to shift, adding too much pressure on one side, and collapsing the entire building.
Some examples of the most common causes of an NYC building collapse include:
Fire damage
Foundational defects
Excessive snow buildup
Damage from rust, mold, or water
Building design defects
Improperly placed construction materials
Flimsy or defective materials
Ceiling collapse
Deviations from the original design of the building
Excessive weight within the structure
Errors while demolishing or constructing the building
Constructing safe and stable buildings requires following strict building codes. These codes aim to keep construction workers safe while on the job and prevent disastrous accidents that injure and kill occupants and bystanders.
Who Can Be Held Accountable for a Structural Collapse?
Constructing a building in NYC is a massive undertaking that requires construction workers, property owners, contractors, inspectors, and other parties to work together to complete the project. These parties must follow multiple state, city, and federal regulations. Violating these regulations creates dangerous working environments and other hazards that can lead to injuries and fatalities.
Chapter 33 of the New York City Construction Codes lists safety requirements that must be followed during all construction and demolition work. When these requirements are not followed, it can lead to serious damage. Our lawyers will investigate all legal avenues to receive maximum compensation for your injuries.
Parties potentially liable for collapsed buildings include:
Engineers
General contractors
Subcontractors
Material suppliers
Tool, equipment, and material manufacturers
Architects
Property owners
Although any individual or entity could be liable, property owners and general contractors are ultimately responsible for overseeing and managing these jobs. Under New York Labor Law 200, these parties are responsible for providing adequate and reasonable protection for the safety, life, and health of the employees.
New York Labor Law 240 imposes standards for scaffolding and other devices employees use. Employees involved in repairing, cleaning, erecting, painting, pointing, demolishing, or altering a building or structure must receive the proper ladders, scaffolding, blocks, hoists, pulleys, braces, ropes, stays, hangers, irons, slings, and other devices to protect them.
All owners and contractors, including their agents, involved in demolition, construction, and excavation work must comply with New York Labor Law 241.
Violations of New York Labor Laws that result in injuries from a collapsed building make responsible parties liable for workers' losses.
Injuries Workers Sustain in Building Collapses
Whether a building collapses partially or entirely, the consequences can be devastating. Workers can die under the fallen debris or fall multiple stories from a raised platform or scaffolding. Innocent bystanders and drivers passing the construction site can also get hurt.
Some of the potential injuries in a construction site collapse include:
Spinal cord injuries
Organ damage
Nerve damage
Surgical amputation or loss of limb
Broken bones
Lacerations
Internal bleeding
Burn injuries
Crush injuries and compartment syndrome
Back injuries
What Compensation Is Available for Construction Collapse?
Multiple sources of compensation might be available if you get hurt in a building collapse in NYC. It depends on your association with the construction site. If you are a construction worker, you could pursue benefits through your employer's workers' compensation insurance, file a claim against the parties liable under New York Labor Law, or file a third-party claim against the parties at fault for the accident.
If you file a workers' compensation claim, you could receive benefits such as:
Medical care to pay for your medical, dental, surgical, assistive device, and other services necessary to treat your injury
Lost income benefits to cover a percentage of the money you can't earn due to your injury
Death benefits paid to surviving family members after a fatal building collapse
If a responsible party violated labor laws or acted negligently, resulting in an accident, you can hold them liable in a New York Labor Law claim or third-party lawsuit.
The money you receive in a successful personal injury lawsuit could compensate you for accident-related losses such as:
Medical expenses
Lost income
Loss of earning capacity
Pain and suffering
Loss of enjoyment of life
Emotional distress
Time Limits to File a Construction Building Collapse Claim
You must inform your employer of the accident within 30 days for a workers' compensation claim. Although a month seems like plenty of time, notifying your employer promptly after getting hurt is crucial. You might lose your rights to workers' compensation benefits if you don't report the incident by the deadline.
Your employer should initiate your claim after you notify them of the injuries you sustained in the building collapse. You should complete an Employee Claim form and submit it to the Workers' Compensation Board. You must file the form within two years of the accident.
For a third-party lawsuit or a claim under New York Labor Law, you must adhere to a strict timeframe called a statute of limitations. In New York, the statute of limitations gives you just three years to file suit for an injury. That means you have three years from the date of the collapsed building to initiate your lawsuit. Only very narrow exceptions can extend the deadline. Failure to file in time would likely mean you lose your right to pursue compensation.
Contact Our NYC Building Collapse Attorneys
At The Perecman Firm, P.L.L.C., we understand construction workers' struggles after life-changing accidents like building collapses. You can count on us to protect your rights and seek the best possible outcome in your case. We will aggressively pursue the maximum compensation you deserve so you can move forward with your life.
If you are a construction worker and got hurt in a building collapse, contact The Perecman Firm, P.L.L.C., for a free consultation with a skilled NYC building collapse lawyer.