NYC Slip & Fall Accident Lawyers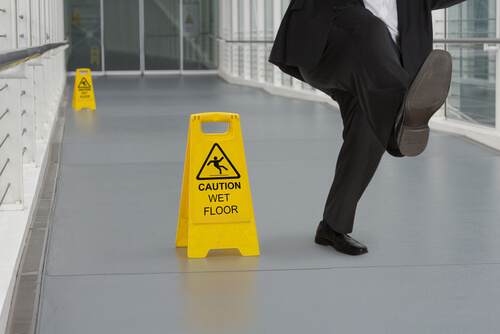 In a busy city like NYC, with so many people moving in a hurry, slip and fall accidents are bound to occur. However, in many cases, these accidents can be prevented through the reasonable care and diligence of property owners. If you have suffered a slip or trip and fall on someone else's property, you may be entitled to compensation for your resulting losses. For help pursuing the financial relief you need, turn to a New York City slip and fall lawyer from The Perecman Firm, P.L.L.C.
At our firm, we have been advocating for more than 40 years on behalf of accident victims whose lives have been upended by devastating injuries. Our experience and success in recovering compensation for injury victims are reflected in the awards and honors our attorneys have received, including from distinguished publications and associations such as Super Lawyers®, The Best Lawyers in America®, and the Multi-Million Dollar Advocates Forum®. Few personal injury firms can claim to match our results both at the negotiating table and in the courtroom.
After a slip and fall accident on another party's property in New York City, reach out to The Perecman Firm, P.L.L.C., for a free initial case review. A knowledgeable NYC slip and fall lawyer can go over your legal options with you so you have the information you need to make the best decisions for your future.
Why Choose Our Firm to Handle Your Slip and Fall Case
If you need to pursue compensation following a slip and fall in New York City, you may find there are numerous attorneys to choose from to handle your case. You deserve to have a slip and fall accident law firm on your side that has the experience and resources to build a compelling case on your behalf and handle any complexities that arise. Clients turn to The Perecman Firm, P.L.L.C., after sustaining injuries in accidents because of our:
Track record of success in catastrophic injury cases, including having recovered more than half a billion dollars for our clients
More than four decades of legal experience that includes representing accident victims in groundbreaking legal cases that have reshaped the law for the benefit of accident victims
Extensive trial litigation experience
Considerable resources for investigating and building persuasive arguments in support of our clients' cases, including connections with experts who are among some of the most well-respected leaders in their respective industries
Stellar reputation among our fellow attorneys, many of whom turn to us for help with their most difficult catastrophic injury cases
Full-service approach to representing clients, which takes the burdens of the legal process off your shoulders so you can focus on your recovery
What Do You Have to Prove in a Slip and Fall Claim?
To successfully recover slip and fall compensation, you will need to prove:
Your fall was caused by a dangerous or defective hazard on someone else's property
The owner knew about or should have known about the dangerous condition
The owner failed to fix the danger in a reasonable timeframe or warn you about the hazard before your fall
Finally, you must also prove you suffered losses because of the fall that you can be financially compensated for.
How Can an NYC Slip and Fall Attorney Help?
The full-service law firm of The Perecman Firm, P.L.L.C., can relieve you of the stress of managing a complex slip and fall claim by handling all of the legal legwork involved in your case, such as:
Investigating the slip and fall accident to recover important evidence, such as video footage of or photos of the accident scene
Hiring accident reconstruction specialists and other relevant expert witnesses to provide persuasive testimony regarding how the accident occurred, why the other party should be held liable for your injuries, and the extent of the losses you have suffered
Documenting your injuries, as well as your ongoing and future losses and expenses
Filing insurance and legal claims on your behalf
Negotiating vigorously for fair compensation on your behalf
Taking your claims to court by filing a slip and fall lawsuit, if needed, to demand the compensation and accountability you deserve
Demanding Full Compensation for Your Slip and Fall Injuries
If you suffered injuries because of a property owner's carelessness, you have a right to pursue compensation to cover the various types of expenses and losses you incur, including:
Medical expenses, including for surgeries, physical rehab, pain medications, and mobility equipment
Long-term care expenses if your slip and fall injuries result in permanent disabilities
Loss of wages or income if you must take time off work while recovering from the slip and fall accident
Loss of future earnings and employment benefits if your injuries prevent you from returning to work
Pain and suffering
Loss of enjoyment and quality of life when disabilities or visible scarring and disfigurement interfere with your daily living
Slip and Fall Lawsuit Timeline in NY
After you have been injured by a slip and fall accident in New York, you have a limited amount of time to file a lawsuit against the party who caused your losses. Under New York's statute of limitations for injury claims, you must typically file a lawsuit within three years of a slip and fall accident. The statute of limitations might be extended in limited circumstances. An attorney can review the details of your case to determine how long you may have to file suit.
However, if you fail to file your lawsuit before the statute of limitations expires, the trial court can permanently dismiss your case without even considering its merits. This makes it important to speak to a New York City slip and fall attorney as soon as you can to ensure you don't run the risk of your case running up against crucial deadlines.
What to Do If You've Been Hurt in a Fall on Someone Else's Property
In the aftermath of a slip and fall accident, you can take steps to safeguard your rights and put yourself in a favorable position to pursue compensation for your injuries. For example, it's a good idea to:
Notify the property owner or the manager of the property or business immediately following the accident.
Request a copy of the accident report the business owner or manager prepared, or create your own report detailing the events that led to the accident.
Take photos or videos of the scene of the accident, including whatever you believe caused you to fall.
See a doctor as soon as possible for an exam to diagnose any injuries you might have suffered in the accident.
Follow your doctor's treatment instructions and attend all recommended follow-up visits.
Keep copies of important documents of your expenses and losses, including medical records, bills, invoices, receipts, pay stubs, income statements, and tax returns.
Start a journal to document the pain and difficulties you experience daily because of your injuries.
Avoid social media while treating your injuries or pursuing your legal claim since insurance companies may try to construe your posts to undermine the credibility of your claim.
Finally, speak to an NYC slip and fall attorney promptly to go over your legal rights and learn what next steps you can take to seek compensation in your case.
Common Causes of Slip and Fall Accidents
A slip and fall can be caused by any hazard that causes someone to slip or trip and lose their balance. Some of the most typical causes of slip and fall accidents in New York City include:
Food or liquid spills
Ice and snow
Yard debris or mud
Tracked-in water
Recently waxed or mopped floors
Loose or broken flooring or tiling
Loose cords or wires on the ground
Missing handrails
Uneven flooring
Abrupt transitions between flooring surfaces
Poor lighting
Lack of anti-slip mats
Places Where Slip and Fall Accidents Commonly Occur in New York
Slip and fall accidents tend to occur more frequently in commercial and retail establishments. Examples of the types of places where slips and falls commonly occur in New York include:
Grocery stores and convenience marts
Bars, clubs, and restaurants
Gyms and fitness centers
Department and retail stores
Shopping centers and malls
Hospitals
Schools
Hotels
Public parks and swimming pools
Amusement parks
Slip and fall accidents can also occur on private property, such as when visiting a friend or acquaintance.
Talk to Our NYC Slip and Fall Attorneys Now
Don't put off getting the legal advice and advocacy you need to demand full financial recovery for injuries you sustained in a slip and fall accident. Contact The Perecman Firm, P.L.L.C., today for a free, no-obligation consultation with our NYC slip and fall accident lawyers. Learn how we will fight to recover the compensation and justice you deserve.