Third-Party Work Injury Claims in NYC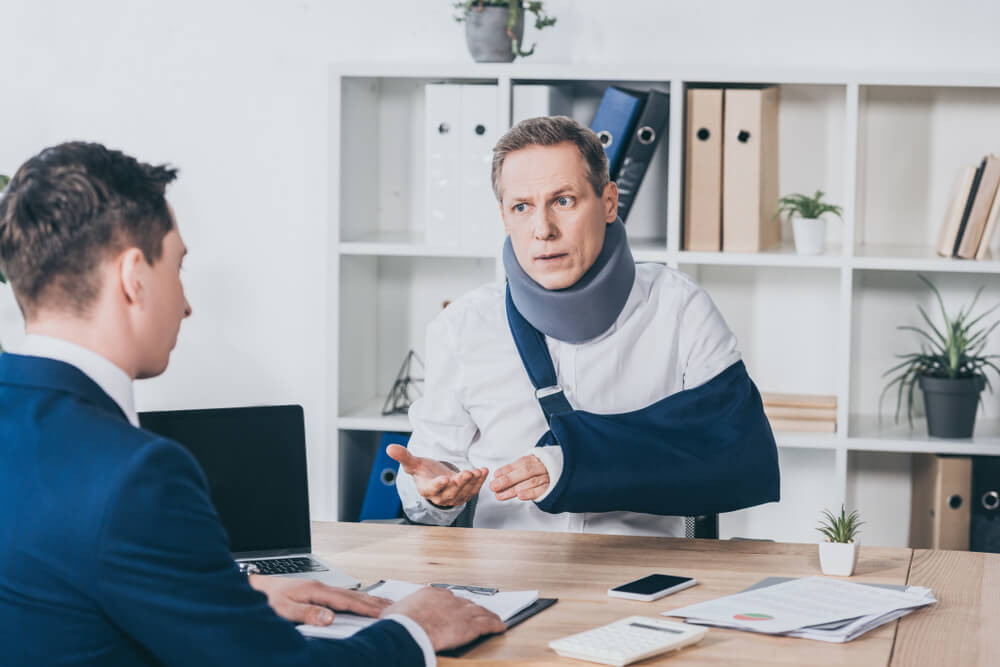 In a workplace injury context, a third-party liability claim is a legal action brought against an individual or entity other than the injured worker's employer or co-workers whose negligence or wrongful act contributed to the accident. This means seeking compensation from someone like a careless driver, property owner, or subcontractor who caused your workplace injury.
Did you suffer an injury at work in New York City caused by a negligent party other than your employer? You may be able to file a third-party work injury claim against them to cover your accident-related losses.
The third-party claims and work injury attorneys at The Perecman Firm, P.L.L.C., have helped injured people in New York recover more than half a billion dollars. We want to help you, too. Our third-party claims attorneys in New York have earned a reputation for aggressive, effective, and relentless advocacy. Let the negligent third party know you are serious about holding them accountable.
Contact The Perecman Firm, P.L.L.C., today for a free review of your case from our NYC third-party injury claims attorneys.
What Is a Third-Party Liability Claim?
Work accidents are complex, especially in New York City, a city of 4.3 million jobs and the nexus of worldwide commerce. It is not uncommon for multiple parties to bear partial responsibility for a workplace accident. In those cases, victims can file a liability claim against the negligent third party to recover compensation for their medical expenses, lost wages, pain, and suffering.
A third-party liability claim is a type of personal injury lawsuit where a claimant must show that someone other than an employer or co-worker did something wrong that caused the on-the-job injury. These cases are different from no-fault workers' compensation claims and certain claims under the New York Labor Law, which do not require a claimant to prove negligence.
Common Types of Third-Party Work Claims in New York
Third-party work claims can arise in various situations, including the following examples:
Construction Accidents Involving Third Parties – Construction projects often involve multiple entities working together, including contractors, contract workers, property owners, and developers. If a construction worker gets injured by a party other than their employer, such as a different contractor, heavy machinery manufacturer, or property owner, the injured worker could file a third-party injury claim against them.
Car Accidents During Work-Related Travel – Work-related travel accidents are common. If an employee gets injured in a car accident caused by another driver's negligence, the employee can file a third-party claim against the at-fault driver.
Slip-and-Fall Accidents on Third-Party Premises – When a worker slips and falls because of unsafe conditions at a third party's premises, the injured worker can pursue a third-party claim against the premises owner or occupier.
Workplace Violence by Non-Employees – If an individual who is not an employee assaults a worker who is performing their job duties, the injured worker may file a third-party liability claim against the assailant.
Damages in Third-Party Work Claims
"Damages" is the legal word for the money victims can recover for injuries caused by another party's wrongdoing. In New York, injured workers can recover the following types of compensation by successfully pursuing a third-party work accident claim:
Economic Damages – Money for current and future medical expenses, lost income and benefits, lost future earnings, and home healthcare and assistance expenses
Non-Economic Damages – Money for pain and suffering, mental anguish, emotional distress, loss of enjoyment of life, loss of consortium, scarring and disfigurement, permanent disability, and inconvenience
Punitive Damages – Only awarded in cases that go to court and where the defendant's actions exhibit willful or wanton negligence or a high degree of moral turpitude
Examples of Third Parties in Work-Related Accidents in New York
Work-related accidents may involve several types of third parties, such as these examples:
Independent Contractors – Many industries use self-employed independent contractors rather than workers employed directly by an employer. If an independent contractor causes an accident that injures another worker, the injured worker could file a third-party claim against the independent contractor.
Property Owners and Managers – If a worker gets injured while on property not owned or operated by their employer, the property owner or manager of the location where the person was injured could be liable for damages if their failure to maintain a safe environment contributed to the injury.
Product Manufacturers and Suppliers – If a defective product or equipment injures a worker, they may seek compensation from the manufacturer or supplier.
Negligent Drivers – If a negligent driver causes an accident that injures a worker, the injured worker may pursue a claim against the at-fault driver.
Time Limits and Filing Deadlines for Third-Party Work Claims in New York
Injured workers seeking to file a personal injury claim against a third party should be aware of the following New York laws:
Statute of Limitations – Under New York's statute of limitations, victims must file a personal injury lawsuit within three years of the injury date.
Exceptions and Tolling Factors – New York law allows the statute of limitations to be tolled, or paused, if the at-fault party leaves the state before the victim files a lawsuit and remains absent for four months or more. Furthermore, if the victim has a legal disability, New York law states that the three-year deadline will commence after the legal disability is lifted. For example, if the victim is a minor, the three-year deadline starts once they turn 18. If the victim is deemed legally incompetent, the three-year deadline begins once they are deemed competent.
Notice Requirements for Certain Claims – If the subject of a third-party lawsuit is a state or local government or agency, the victim must file a Notice of Claim in New York Supreme Court within 90 days of the injury date and at least 30 days before filing a lawsuit.
Hiring a Third-Party Work Claim Attorney in New York
Third-party workplace accident claims in New York are not an easy undertaking. Personal injury law, particularly in the context of workplace accidents, can be overwhelming and intricate. That's why you should hire the New York personal injury attorneys at The Perecman Firm, P.L.L.C., to represent you.
We have over 40 years of legal experience fighting for injured New York workers just like you. Our decades of experience show in our results. While no two cases are alike, you can trust that our attorneys have the resources, skill, and resolve to fight for your interests and will work hard to achieve the maximum financial recovery you deserve.
Contact Our Experienced NYC Workplace Injury Lawyers Today
Dealing with the aftermath of a workplace injury can be emotionally and physically draining. By hiring The Perecman Firm, P.L.L.C., you can focus on your recovery, knowing that our sophisticated third-party work injury attorneys are fighting for you.
Contact The Perecman Firm, P.L.L.C., today for a free consultation with one of our New York City workplace injury lawyers.