Bio
Passionate, Relentless, Thorough
Zach Perecman has worked at The Perecman Firm since high school, as a file clerk, a paralegal, and now as a personal injury and construction accident lawyer who loves fighting and winning for his clients who were seriously injured in construction accidents, car crashes, premises incidents, and civil rights matters. He is extremely knowledgeable and experienced in all aspects of the firm's legal work in representing its clients, as well as the management and marketing of the firm. He strives for perfection in his cases, always making himself available for his clients, and aggressively pursuing maximum compensation for their injuries. 
Zach regularly obtains multi-million-dollar settlements, has participated in jury trials to successful verdicts, and ranks among the state's top attorneys by Super Lawyers Rising Stars (2018-2022) and Best Lawyers Ones To Watch (2020-2023). He handles all aspects of his clients' cases including investigation, depositions and discovery, writing of motions and appeals, and trials.  Zach makes sure he always knows about any new case results and legislation that will help him to achieve outstanding results for his clients. Zach takes pride in his legal practice as well as the management and marketing of The Perecman Firm.
Some of Zach's recent construction accident settlements include: $5,600,000 for a union concrete laborer struck by a falling scaffold, $4,300,000 for a union carpenter who fell from a scaffold, $3,200,000 for a union laborer who broke his ankle stepping on debris, $2,700,000 for a union asbestos worker who burned his hands, and $1,800,000 for a union concrete worker struck by a falling beam.
The first case he worked on after law school involved a woman who was wrongfully accused of murder and imprisoned on Rikers Island for 4 years. Zach was instrumental in convincing the highest court to hear the case and allow the trial to proceed against The City of New York, leading to a $4 million-dollar settlement.
Another significant moment in his career came in 2019 when he and David Perecman, Zach's father and the firm's founder and lead trial lawyer, secured a unanimous jury verdict resulting in a $5 million settlement in a premises liability case where their client slipped on water in his own bathroom and permanently injured his back.
Zach is a happy and devoted husband and dad. Outside of his legal practice, he loves to play guitar, sing, and ride his Peloton.
Zachary Perecman knew from a young age that he wanted to be a trial lawyer. He had the opportunity to learn firsthand from the example of his father, one of New York City's most respected and well-known trial attorneys. Mr. Perecman showed an early aptitude for litigation during law school, excelling not only in his coursework but in trial advocacy training as well.
He chose to focus his studies on civil litigation and constitutional law, understanding from the start that he wanted to represent accident victims and those who had their civil and constitutional rights violated. As a result, he gained an early familiarity with the importance of the civil justice system and the courts in protecting peoples' rights.
Seeking real-world experience while in law school, Mr. Perecman became a member of "Civil Justice Through the Courts." This program allowed him to work side-by-side with the Center for Justice and Democracy, a non-profit consumer advocacy group dedicated to breaking down barriers to the civil justice system.
There, he focused on fighting against changes to the labor law that would reduce protections for construction workers and became extremely knowledgeable about Labor Law 240(1), arguably the most important law protecting workers in New York.
He then went on to fight the impact of two recent U.S. Supreme Court decisions that had weakened protections for consumers using generic prescription drugs. He assisted in drafting a formal Comment to the FDA about a proposed rule addressing these decisions.
Mr. Perecman worked at The Perecman Firm, P.L.L.C., throughout college and law school and, in 2015, was admitted to practice law in the state of New York and joined the firm as an attorney. He immediately put his skills to use working on behalf of victims of civil rights violations and workers injured in construction accidents by helping in the hard work of securing fair compensation to pay for their medical treatment and lost wages.
Mr. Perecman earned his Bachelor of Science degree from the University of Miami, and his Juris Doctorate (J.D.) from New York Law School, where he graduated magna cum laude with a focus on social justice advocacy. Mr. Perecman's outstanding academic achievements in law school gave him the honorable privilege of becoming a John Marshall Harlan Scholar affiliated with the Justice Action Center and serving as a staff editor on the New York Law School Law Review. At all times during his education and career, Mr. Perecman has remained focused on achieving justice for the victims of accidents and their families.
New York, 2015
New Jersey, 2016
New York State Trial Lawyers Association
New York County Lawyers Association
Check Out Attorney Zach Perecman's Friday FAQ Series, Where He Discusses Important Legal Topics Related to Personal Injury, Construction Accidents, and the Accident Claim Process.
Education
Bachelor of Science
University of Miami – University
2009
Juris Doctor-Magna Cum Laude
New York Law School – Graduate School
2014
Awards
Best Lawyers has selected Zachary Perecman as a 2024 attorney "Ones to Watch." This notable recognition was given to five of our rising attorneys at Perecman Firm for 2024!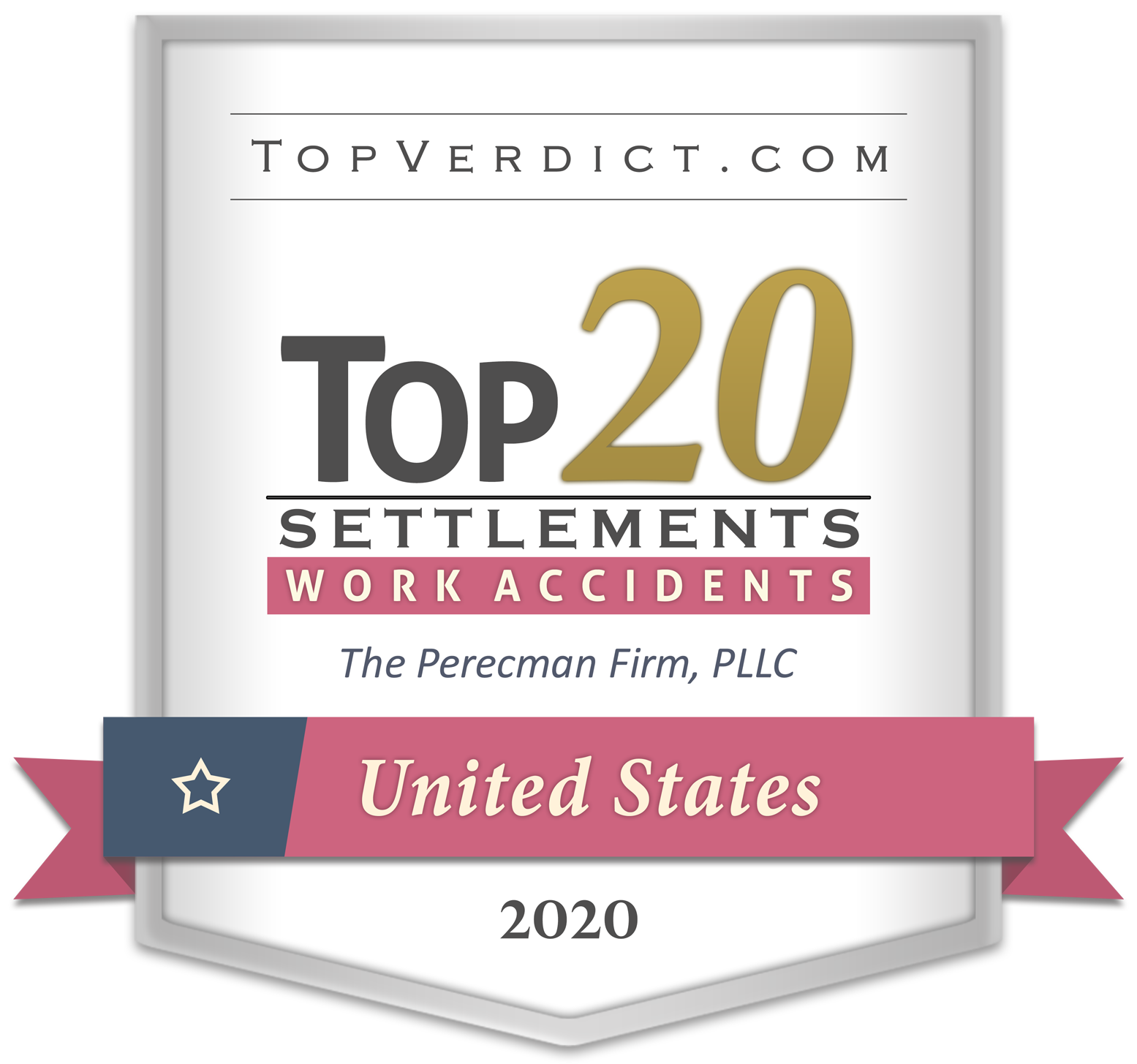 Five Perecman Firm attorneys have been selected as a Best Lawyers "Ones To Watch." Zachary Perecman (since 2021), Sagar Chadha (Since 2022), Erica Colon (Since 2021), Edward Guldi (Since 2021) and Eileen McGivney (Since 2022).

The New York Law Journal is a nationally recognized publication that highlights the legal profession in New York. The distinguished title of "Top Verdicts in New York" was granted to The Perecman Firm, P.L.L.C., for securing some of the top verdicts and settlements in the state.


Practice Areas
Location Information
New York
250 West 57th Street,
Suite 401
New York, NY 10107
Jericho
500 North Broadway,
Suite 161
Jericho, NY 11753