Manhattan Construction Accident Attorney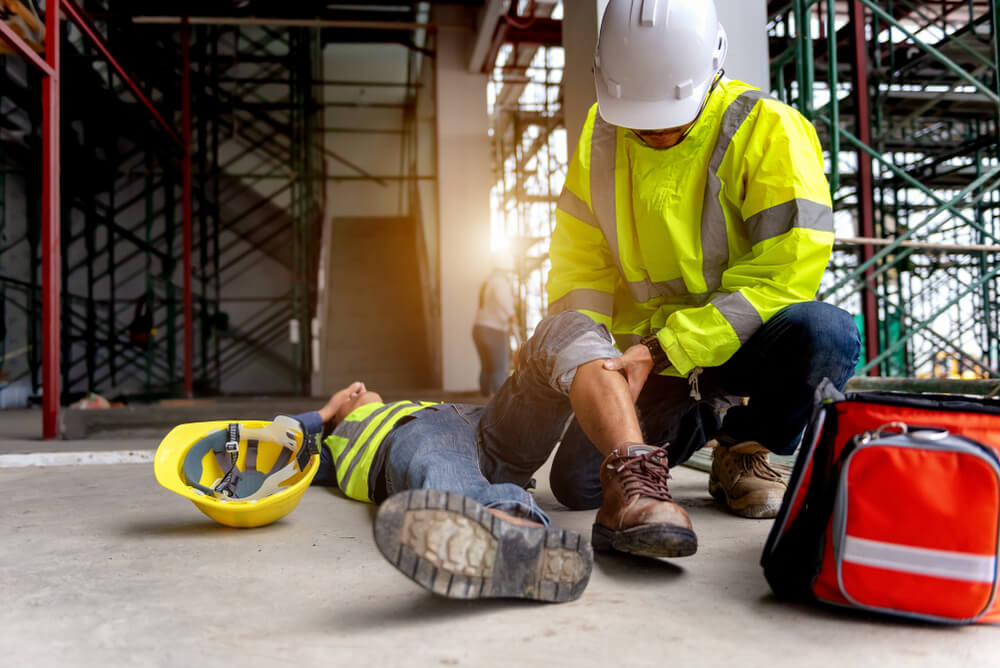 Construction is a constant presence in Manhattan, as are its potential hazards. When a construction site accident turns your life upside-down, it is vital to get help from a trusted Manhattan construction accident attorney with a thorough understanding of labor laws. You need someone who will fight relentlessly for your right to maximum compensation.
The Perecman Firm, P.L.L.C., is dedicated to helping workers injured in Manhattan construction accidents. Our team of dedicated Manhattan construction accident attorneys has been instrumental in securing substantial verdicts and settlements for injured individuals in Manhattan and throughout New York.
Contact us today if you have been hurt in a construction site accident. The consultation is free, confidential, and there are no legal fees until we secure compensation for you.
Why You Need Our Manhattan Construction Accident Attorneys
Construction is one of the most hazardous industries in Manhattan. Construction accidents can result in severe, life-altering injuries or even death. The aftermath can be overwhelming. You need someone on your side who understands the law, knows how to protect your rights, and is committed to aggressively pursuing the maximum compensation you deserve.
As Manhattan construction accident lawyers with over four decades of experience, we have recovered more than half a billion dollars for our clients. Our team uses respected experts, cutting-edge technology, and a straightforward approach to maximize your claim's value. We are ready to put our experience, resources, and skills to work for you.
Causes of Construction Accidents in Manhattan
There are numerous causes of construction accidents, including:
Unsafe conditions on the worksite
Equipment malfunctions
Accidents involving defective machinery
Failure to follow or enforce safety protocols
Lack of safety equipment, including personal protective equipment
Dangerous scaffolding, ladders, platforms, and other structures
Unsafe trenching and excavation
Toxic exposure
Fires and explosions
Electrical hazards
Untidy worksites with debris and poorly stored materials and equipment
Improper response to inclement weather
Vicarious liability under New York labor laws means the property owner, the general contractor, or other responsible parties can be accountable for accidents on their sites, even if they were not directly involved in the work leading to the accident.
Types of Construction Accidents
Our extensive experience as Manhattan construction accident attorneys has allowed us to work on a wide variety of cases with severe injuries or even fatalities that occurred on the job site. Here are some of the most common types of construction accidents:
Building collapses
Cement and concrete burns
Chemical exposure
Construction site trip-and-falls
Crane accidents
Accidents caused by defective or unsafe equipment
Demolition accidents
Electrocution
Elevator accidents on construction sites
Eye injuries on construction sites
Falls from scaffolds and other heights
Faulty safety equipment
Forklift accidents
Fires and explosions
Hand and power tool accidents
Hoist accidents
Ladder falls
Machinery accidents
Scaffolding accidents
Site debris accidents
Struck by falling objects
Toxic exposure
Trench collapse accidents
Weather-related construction accidents
Welding accidents
Window washing accidents
Roofing accidents
Types of Injured Workers We Represent in Manhattan
We provide our skilled representation to a wide variety of construction workers, including these examples:
Carpenters
Crane operators
Bricklayers
Drywall workers
Electricians
Forklift operators
Ironworkers
Laborers
Maintenance workers
Masons
Painters
Pipefitters
Plumbers
Roofers
Sheet metal workers
Steeplejacks
Tunnel workers
Undocumented construction workers
Utility workers
Welders
Window washers
Consequences of Construction Accidents
Construction accidents can lead to painful and long-lasting injuries, such as:
Broken bones
Traumatic brain injuries
Spinal cord injuries
Loss of limbs
Organ damage
Burns
Electrocution
Crush injuries
Joint damage
Back and neck injuries
Internal bleeding
Beyond the physical injuries, victims may also suffer significant emotional and financial burdens, from medical bills to lost wages and reduced earning capacity. This is where our team of construction accident lawyers in Manhattan steps in. We work diligently to seek the compensation you need to cover all accident-related expenses and losses.
New York Construction Labor Laws
Our Manhattan construction accident attorneys are well-versed in the nuances of New York Labor Laws, including:
Labor Law 240(1), commonly referred to as the "Scaffold Law," allows certain workers to sue contractors, site owners, and their agents for accidents that involve falls from heights (falling off ladders or scaffolds, for example), falling objects, and other gravity-related incidents. The law requires these corporations and companies to properly protect the workers employed on the construction site. You can bring a lawsuit even if the contractor and owner had nothing to do with your specific work or your accident.
Labor Law 241(6) allows workers to sue contractors, owners, and their agents for violations of specific regulations of the New York State Industrial Code. This law commonly covers accidents involving trip and falls, slip and falls, electric shocks, unguarded saws, and other machinery, certain demolition accidents, scaffold accidents, crane accidents, and many others. You can also bring a lawsuit under this law against the contractor or owner even if they had no direct involvement with your work or accident.
Labor Law 200 allows workers to sue companies for their failure to provide reasonable and adequate protection to workers on a construction site. It has similarities to a negligence case.
This is vital information for workers injured in construction site accidents because workers' compensation benefits do not cover pain and suffering and, in many cases, do not adequately compensate for other damages, like loss of earnings and benefits.
Since not all job site accidents will allow injured workers to bring a lawsuit, it is very important that you consult our Manhattan construction accident attorneys to find out whether you can take legal action.
Other Types of Compensation for Construction Accidents
If you were a covered employee when you were hurt on the job, workers' compensation benefits could provide medical coverage and a portion of your lost wages, regardless of who was at fault for the accident. Additionally, you may have a claim against other third parties whose negligence contributed to your accident. Our team of Manhattan construction accident lawyers is ready to evaluate your situation and identify all potential sources of compensation.
How Long Do I Have to File a Construction Accident Claim?
In New York, the statutory limitations period for filing a personal injury lawsuit, including for construction accidents, is generally three years from the date you suffered your injury. However, different types of claims may have different deadlines. For example, you must file a workers' compensation claim within two years of the accident date and must provide your employer with timely notice.
It's crucial to consult with an experienced construction accident attorney in Manhattan as soon as possible to ensure you do not miss your chance to pursue compensation.
Choosing the Right Manhattan Construction Accident Lawyer
Selecting the right attorney can significantly affect the outcome of your case. You need a law firm with proven results, extensive experience, vast resources, and a solid reputation.
At The Perecman Firm, P.L.L.C., we treat our clients like family, and we fight relentlessly for justice in every case. Many attorneys throughout the state choose to refer their most challenging catastrophic injury cases to us, which shows that we have the experience, resources, and dedication required to handle even the most complex construction accident cases.
Call Our Manhattan Construction Accident Lawyers for Help
Our dedicated and compassionate team is here to help if you suffered injuries in a construction accident in Manhattan. We offer a free consultation and charge no legal fees until we recover compensation for you.
Contact The Perecman Firm, P.L.L.C., your trusted Manhattan construction accident attorneys, today.