Manhattan Bicycle Accident Lawyer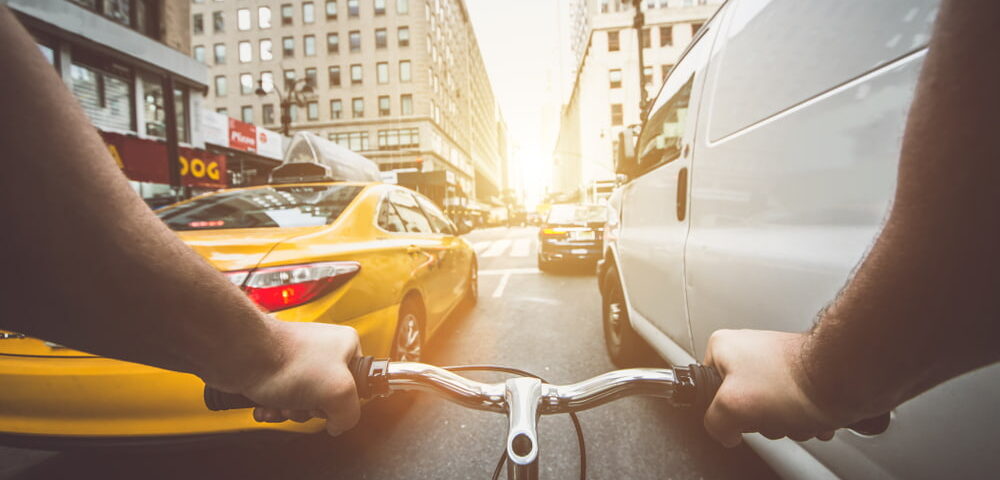 Were you hurt in a bike accident in Manhattan? Did someone else cause it? If so, you could be entitled to significant compensation for all your losses. The Manhattan bicycle accident attorneys at The Perecman Firm, P.L.L.C., are ready to help you seek every penny you deserve.
Despite some efforts to promote bicycle safety, bicyclists in Manhattan are still forced to share the road with careless, distracted, and sometimes reckless motorists. While bikers have the same rights as motorists on New York streets, drivers don't always follow traffic laws or pay attention to nearby riders. That's a recipe for preventable tragedy.
The Perecman Firm, P.L.L.C., understands the long-lasting consequences of a car vs. bicycle collision. We're dedicated to fighting for injured bicyclists in Manhattan. With over 40 years of experience and half a billion dollars recovered for our clients, we know how to pursue maximum compensation for you.
Contact us for a free consultation with a Manhattan bicycle accident attorney today.
Why You Need Our Manhattan Bicycle Accident Lawyers
Bicycle accident injuries often produce the most severe injuries an accident victim can suffer. To build the strongest case possible for the total compensation you deserve, you need experienced legal representation. You don't have to settle for just any bicycle accident law firm.
At The Perecman Firm, P.L.L.C., we believe our Manhattan bicycle injury attorneys stand out as the right choice for you for several reasons, including:
Our firm boasts a proven record of success in personal injury cases, having recovered more than half a billion dollars on behalf of our clients.
We have been advocating for accident victims across NY for over four decades. We have been involved in cases that have led to important changes in the law that help protect the rights of injury victims.
Our team includes experienced trial litigators, some of whom have decades of courtroom experience, along with connections to industry-leading experts in a wide variety of fields relevant to injury cases.
Our legal peers hold our knowledge and experience in injury law in high regard. Many attorneys choose to bring our firm in on their most complex catastrophic injury cases.
As a full-service injury law firm, we will handle every detail of preparing and pursuing your bicycle accident case so that you can focus your time and energy on your recovery.
Common Causes of Bicycle Accidents in Manhattan
Riding a bike is good for the environment and your health, and it beats trying to find a parking spot in Manhattan. However, it can increase your risk of debilitating injuries in a collision caused by:
Distracted drivers
Failure to obey traffic devices
Poorly maintained roads
Failure to yield the right-of-way
Speeding
Drunk drivers
Defective bikes and vehicles
Drowsy drivers
Dooring accidents
Passing too closely
Swerving into the bike lane
Who Can You Sue After a Manhattan Bicycle Accident?
You can sue the at-fault driver for compensation. However, you must file a claim with their personal injury protection (PIP) insurance policy first, which extends coverage to pedestrians and cyclists hit by the policyholder. PIP insurance pays for necessary healthcare expenses and up to 80 percent of your lost wages, subject to caps and limitations. You can only file a lawsuit if you exhaust the PIP limit and meet the serious injury requirement.
Common Bike Accident Injuries
Some of the most common serious injuries caused by bicycle accidents include:
Internal bleeding
Traumatic brain injuries (TBI)
Pelvic injuries
Road rash
Deep lacerations
Facial and dental injuries
Broken bones
Loss of limb
Spinal cord injuries
Fractured ribs and other chest injuries
Paralysis
Burn injuries
Back and neck injuries
What Are Manhattan's Bicycle Laws?
While a cyclist or passenger on a bicycle, those under 14 must wear protective headgear that meets the standards provided by the United States Consumer Product Safety Commission, the Snell Memorial Foundation, or the Safety Equipment Institute.
State law also requires bicyclists to drive only on a usable bike lane when available or, if not available, close to the right-hand edge of the roadway or curb to prevent interfering with traffic flow. The only exception is when preparing to turn left or if traveling near the right-hand edge or curb is unsafe.
Strategies for Successful Bicycle Accident Cases
A bike accident can leave you seriously injured, out of work, and unable to proceed with your usual routine. You deserve to be compensated by the person who hit you, but pursuing your rights can be challenging while you're also struggling to recover.
The best strategy when seeking justice after a bike accident is to let an attorney from The Perecman Firm, P.L.L.C., take over so you can focus on what matters – your health and future. Although you might think the insurance company is on your side, their goal is to pay you as little as possible so they can boost their profits. We will protect your interests and aggressively pursue the maximum compensation by:
Collecting valuable evidence
Identifying all available insurance coverages
Requesting medical records to show the extent of your injury
Calculating the value of your claim
Hiring experts such as accident reconstruction specialists and medical experts to strengthen your case
Negotiating for a settlement from a position of strength
Filing a lawsuit if the insurer denies your claim or refuses to settle
Pursuing your case through trial
Seeking Compensation After a Manhattan Bicycle Accident
PIP insurance includes coverage for the following:
Necessary and reasonable medical and rehabilitation costs
80 percent of lost wages with a maximum monthly limit of $2,000 for up to three years
Up to $25 in daily reimbursement of other necessary and reasonable expenses for no more than a year after the collision
If you file a liability insurance claim or lawsuit against the at-fault driver or another responsible party, the compensation you receive could cover your:
Pain and suffering
Scarring or permanent loss of limb
Emergency room visits, physical therapy, and other medical expenses
Lost income
Lost future earnings
Emotional distress
Loss of enjoyment of life
Damage to personal property
Keep in mind that New York law sets a three-year statute of limitations for bicycle accident claims. In most cases, that means you have only three years from the date of the accident to file a lawsuit. If you wait too long, you could lose your right to seek compensation.
If you are involved in a bike accident with a government vehicle or if government negligence caused the accident, state law typically requires you to give notice of your claim to the appropriate government agency or entity within 90 days of the accident.
The sooner you can contact our attorneys, the better. We can ensure that your claim is filed on time, and we can also launch an investigation into the cause of the crash before evidence disappears and memories fade.
How Our Bike Accident Law Firm in Manhattan Can Help
The Perecman Firm, P.L.L.C., is ready to fight for your rights after a bicycle accident. We believe in holding people accountable for their wrongdoing and helping our clients heal after traumatic collisions.
If you sustained injuries in a bike crash someone else caused, contact us today for a free consultation with a skilled Manhattan bicycle accident lawyer.