Motorcycle Accident Lawyers Long Island, NY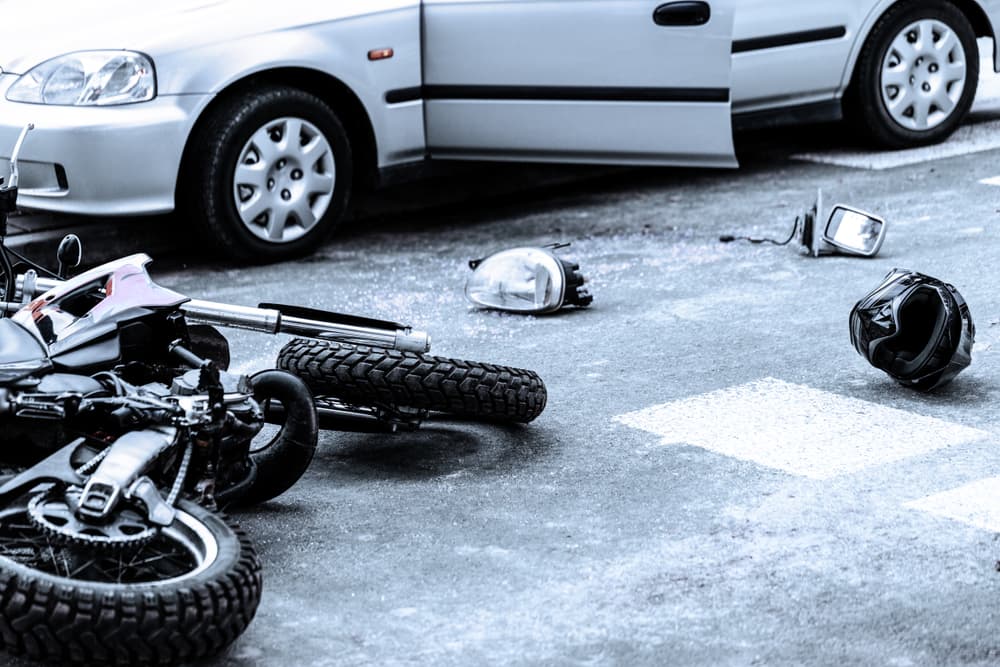 Nearly 5,000 motorcycle crashes occurred in New York in a single recent year, according to the latest data from the Institute for Traffic Safety Management and Research. Just over 200 were fatal, and thousands resulted in injuries. In another recent year, AAA estimated that about 95 percent of the state's total motorcycle fatalities happened in Nassau County and Suffolk County. 
Many injured motorcyclists face substantial losses in the form of medical bills, lost wages, pain, and suffering – losses they deserve to be compensated for if someone else was at fault.
If you've been hurt in a motorcycle accident on Long Island, the attorneys with The Perecman Firm, P.L.L.C., are ready to demand the money you deserve from the responsible parties. We have over 40 years of experience helping injured people on Long Island. We have recovered more than half a billion dollars for our clients during that time. Let us put that same diligence and determination to work on your case. 
Contact us now for your free case evaluation with our Long Island motorcycle accident lawyers
Why You Need Our Long Island Motorcycle Accident Attorneys
The Perecman Firm, P.L.L.C., has more than 40 years of experience in successfully concluding personal injury claims and lawsuits. Our successes have earned us recognition from The Best Lawyers in America®, the Multi-Million Dollar Advocates Forum®, Super Lawyers®, and others. Many of our professional colleagues in New York State turn to our firm for help with their most difficult catastrophic injury cases.
We have the skills, resources, and knowledge to:
Investigate the accident and recover persuasive evidence we can use to build your case
Work with our roster of on-call experts in accident reconstruction, medicine, vocational rehabilitation, and finance
Identify liable parties and applicable insurance coverages
File insurance claims and demands for compensation to begin vigorously pursuing financial recovery from liable parties and insurers through a negotiated settlement
Pursue your rights in court in a motorcycle accident lawsuit, if needed, to give you the best chance of seeking maximum financial recovery
In your initial free case evaluation, you'll have the opportunity to share your story with an attorney. We will get to know you and your case. You'll never feel like just another case when you work with our firm.
If you wonder how you can afford an attorney, don't worry. We operate on a contingency-fee basis. That means you pay no upfront fees, and we only get paid if and when we secure compensation for you.
Common Motorcycle Accident Injuries
Motorcycle accidents often result in significant injuries. Most motorcyclists have little more than a helmet, boots, and leathers to protect them from the effects of a crash.
Some of the most common motorcycle accident injuries include:
Road rash, abrasions, and avulsions
Broken bones
Crush injuries
Internal injuries and bleeding
Injuries to the extremities
Neck and back injuries
Spinal cord injuries and paralysis
Facial and dental trauma
Loss of limbs
Traumatic brain injuries (TBI)
Even if your injuries seem relatively minor immediately after the crash, it's vital to seek medical care as soon as possible. Adrenaline could mask more serious problems that a physician can diagnose and treat before complications set in. When you see a doctor after the accident, they will create a medical record about your injuries, tying them to the accident.
How Motorcycle Wrecks Are Caused on Long Island
Motorcycle accidents are unique in that a crash that might be a minor fender bender for the average motorist could result in catastrophic injury for a motorcyclist. Some of the most common causes of motorcycle wrecks include:
Speeding
Tailgating
Reckless driving
Distracted driving, especially using a cell phone while driving
Driving under the influence of drugs or alcohol
Drowsy or fatigued driving
Failure to yield the right of way
Running red lights or stop signs or disregarding other traffic controls
Failing to use turn signals and mirrors before turning or changing lanes
Inexperienced drivers
Adverse weather
Low lighting or nighttime driving
Poor road conditions, including debris, broken pavement, and potholes
Proving Fault for Motorcycle Crashes on Long Island 
Proving that another party is at fault for the motorcycle crash is critical for obtaining compensation for your losses. Your lawyer can build a compelling case by obtaining evidence to support your position, using medical reports to establish the extent of your injuries, and interviewing witnesses who may have seen what happened.
Our Long Island motorcycle accident attorneys frequently rely on evidence such as:
Photos and videos of the crash site, including helmet cam footage
Videos from nearby surveillance or traffic cameras
Statements from witnesses
Cell phone records from drivers involved in the crash
Information from police accident reports
Post-accident vehicle inspection reports
Testimony from experts in accident reconstruction
It's important to note that under New York statute 1411, you could still recover compensation even if you were partially at fault for the accident. In such cases, your compensation would be reduced by an amount that corresponds to your percentage of liability. Every dollar matters when you're dealing with serious injuries. Our Long Island motorcycle accident lawyers know how to find, prepare, and present evidence that lets the blame fall where it should.
Potential Compensation for Victims of Long Island Motorcycle Crashes
In your insurance claim or lawsuit, you might be eligible for compensation for the following:
Medical bills for treatment and rehabilitation
Costs of long-term care needed for permanent disabilities that result from your injuries
Lost income and reduced future earning capacity
Pain and suffering
Visible disfigurement and scarring
Reduced life expectancy
Property damage
Motorcyclists' Rights on Long Island 
Under New York law, motorcyclists have all the rights and legal protections of any other driver on the road. In practice, however, that may not seem to be true. At-fault motorists might try to blame motorcyclists for accidents they caused, and police might file accident reports that reflect these false statements.
Our motorcycle accident lawyers will fight against these tactics and protect your rights to financial recovery. Motorcycle injuries are often severe and can be life-changing. You shouldn't have to handle the legal process alone.
Contact Our Long Island Motorcycle Accident Lawyers
Don't wait another day to begin the process of pursuing motorcycle accident compensation. Contact the Long Island motorcycle accident lawyers of The Perecman Firm, P.L.L.C., today for a free, no-obligation case review. We are ready to review your situation and discuss your legal options for pursuing financial recovery for your injuries.