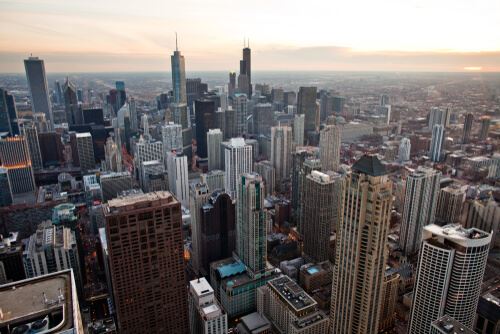 Officials from New York City's Department of Buildings have approved demolition of JPMorgan Chase & Co.'s Manhattan headquarters. Demo of the looming 700+ foot, 52-floor high rise at 270 Park Avenue will be the world's tallest intentional building demolition in history, according to Construction Dive.
Completed in 1961, the glass metal high rise was for nearly 50 years the tallest building to be designed by a woman. At 707 feet in height, it towers over the 612-foot Singer Building, which is currently the largest building to have been purposely demolished by its owner, and the third-tallest building ever to be destroyed, after the World Trade Center's Twin Towers.
The Mega Project of Mega Projects
JPMorgan plans to replace its Modernist tower with a building nearly double its size. The projected 1,400-feet tall, 70-floor structure is slated to house more than 6,000 employees across 2.5 million square feet of office space, and will be the first major construction project for the Grand Central office district since nearly 80 blocks of Midtown were rezoned for larger, modern skyscrapers. Experts expect the project will create 8,000 construction jobs, and will be completed in 2024.
Of course, JPMorgan Chase will have to demolish the existing structure before it can begin erecting its new HQ – which is no small feat by any means, especially in densely populated metro areas like Manhattan. Here are some details about what the project involves:
Site safety plans – Given public safety concerns, the City's Buildings Department requires companies that want to demo buildings to submit detailed site safety plans, among other specs, which comply with Article 110 of the NYC Administrative Code.
Regulatory compliance – Per construction codes, plans submitted with proposals must include a great deal of information; from details about site location and fencing to compliance with crane and temporary elevator regulations, scaffolding and safety netting laws, safety procedures and public protection policies, and more.
Worker training – In addition to meeting proposal requirements and ensuring regulatory compliance, contractors must ensure all laborers and tradesmen performing work on the site first complete an OSHA-approved 10-hour safety course, and receive site-specific hazard training. A law recently passed by the NYC City Council to mandate 40 hours of safety training for most construction workers will be phased in by late next year.
Unfortunately, the most detailed of plans aren't always enough to protect workers and passerby from suffering harm, but they are critical to reducing risks of construction accidents and catastrophe's akin to the 2013 Philadelphia building collapse. In that tragic incident, a building undergoing demolition collapsed onto a neighboring Salvation Army store, killing six victims, and injuring over a dozen others. Two demo contractors involved in the project were later sentenced to prison for their failures, and the city of Philadelphia overhauled its demolition application process, which previously did not require submission of site safety plans or information about contractor qualifications.
Risks Abound in NYC's Mega Project-Fueled Construction Industry
Though it may be a prosperous time in New York City's construction industry, it's also a time when increased risks faced by workers and the general public must be appropriately managed. As we've mentioned on our blog, city construction trends indicate the Big Apple's continued construction boom will be fueled in large part by mega projects, including those like Hudson Yards and other West Side development.
Those mega projects, while exciting, create an array of hazards for construction workers, pedestrians, and nearby residents, including risks for:
Risks for serious or fatal injuries caused by these hazards can be exacerbated by the sheer scope of larger projects, as well as the negligence of contractors, premises owners, and others who fail to exercise caution or comply with Labor Law.
Injured? Speak With an NYC Construction Accident Attorney: (212) 577-9325
Having seen the transformation of our city throughout the years, The Perecman Firm, P.L.L.C., knows the Big Apple has been and will continue to be shaped by the hard-working construction workers and skilled craftsmen who often put their lives on the line to complete projects of all sizes. Because of their contributions to our city, they deserve to be treated fairly following construction accidents and workplace injuries – and our firm exists precisely to ensure they are.
If you have questions about your right to compensation following a construction accident anywhere in NYC, give our team a call 24/7 to speak with a lawyer. Consultations are free and confidential. Call (212) 577-9325 or contact us online.