Power-Driven Machinery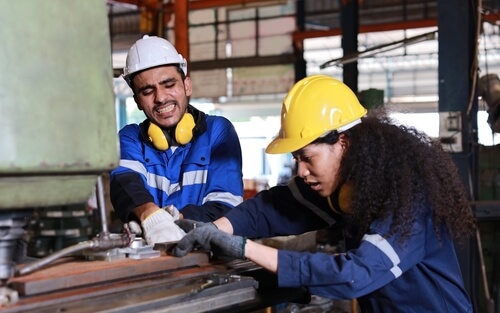 Protection for Workers Using Power-Driven Machines
New York Labor Code § 23-1.12 sets forth regulations regarding guarding of power-driven machinery. According to the code, there are specific machines that must have proper guarding when operated by a construction worker. This is to protect the worker from potential danger from sharp machinery or parts. The employer can be held liable if a power-driven machine that is not properly guarded causes an injury.

Types of Power-Driven Machines
On the construction site, there are numerous different types of equipment. Many of these are power-driven and fall under this code. The list covers a number of different machines and explain ways they can be guarded if not done so by location or design.
Guarding of power-driven machinery refers to:
Cylindrical sleeves made of wood or metal, completely surrounding the projection, must guard keys, set screws, bolts, pulleys, gears, collars, couplings, and similar tools in which they are not countersunk.
Power-driven saws must provide a fixed guard above the base plate when portable, hand-operated, or power-driven saws are not on a saw table to prevent operator contact. This excludes circular brush saws and chain saws. Electrically-driven portable saws must also follow regulations under § 23-1.10.
Sprockets and gears must be guard by band guards or completely enclosed when not protected by design or location.
Belts, pulleys, and flywheels less than seven feet above the working surface must have all moving parts guarded by safety railings or significantly efficient enclosures.
Friction-disc drives must be completely enclosed or guarded by band guards with side flanges when not completely protected by location or design.
Wire ropes shall have the nip points guarded by effective enclosures or safety railings.
Maintaining Proper Safety
These guards are to prevent the operator from making contact in any way that would potentially cause them harm. The dangerous components shall be enclosed completely by guard, location, or design of the machine. For instance, a power-driven saw must have a guard that would prevent the operators hand from coming into contact with the teeth during use.
Do You Have a Lawsuit? Speak With Our NYC Construction Accident Attorneys!
If you are forced to use power-driven machinery without proper guarding and it results in some kind of injury, you may be able to pursue legal action. In some cases, this could be a design defect in which the manufacturer does not warn of the potential danger, and it may be because a contractor did not provide proper training or equipment.
Our New York City construction accident lawyers at The Perecman Firm, P.L.L.C., are dedicated to making sure you understand your rights as a worker. You deserve to be protected from any potential dangers on the work site. Call us at (212) 577-9325 to schedule your free case evaluation and learn more about your potential lawsuit to seek damages associated with the construction accident.