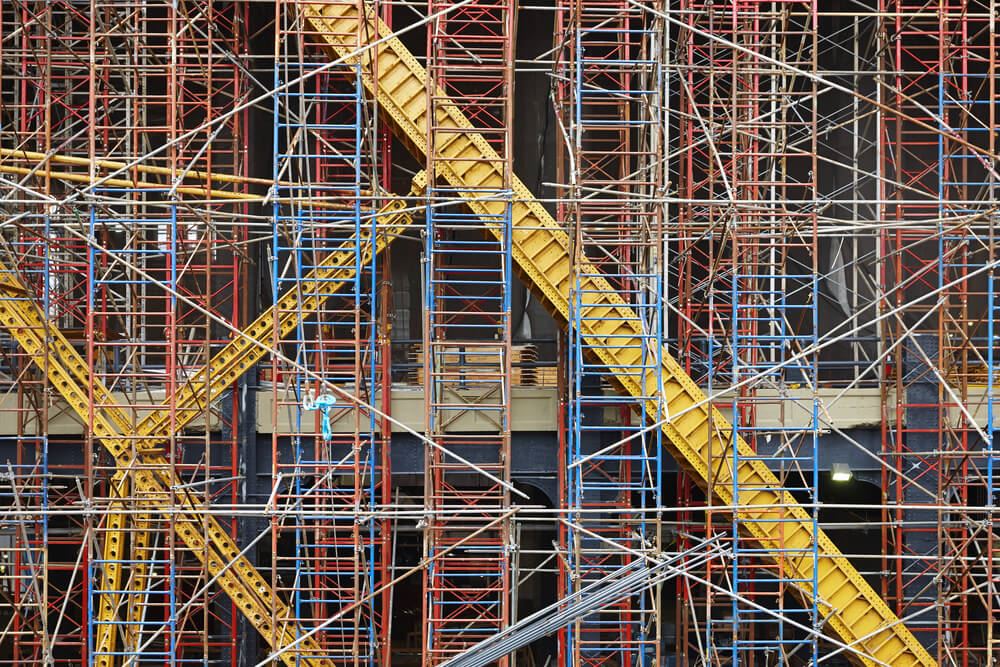 New York looked much different in 1885 than it does today. A year when the (still copper) Statute of Liberty first arrived in New York Harbor and long before skyscrapers shaped the City we know and love, New York's tallest building was Wall Street's Trinity Church, which at the top of its spire measured 281 feet.
1885 was also the year when New York Legislators passed the state's Scaffold Law.
While it's difficult to say whether lawmakers at the time could have foreseen the looming skyscrapers and high-rise apartments that have come to define modern-day NYC, they did have a hunch the City's role as a gateway to America would produce growth, innovation, and lots of people with nowhere to go but up.
As the years went by, and the towering concrete jungle that is New York came to fruition, the scaffold law has, for its intent and purpose, still applied. It's also remained one of the most construction worker-focused safety protections in U.S.
About the New York Scaffold Law
New York Labor Law § 240, or simply "The Scaffold Law", was enacted by the NY Legislature in 1885. The statute affords "exceptional protection" to workers injured while performing specific activities (including, but not limited to, as erection, demolition, repair, alteration, painting or pointing) that are inherently dangers because of gravity related risks such as falling from a height or being struck by materials that have fallen due to the effects of gravity.
NY's Scaffold Law is unique and the only one of its kind in the Nation that seeks to protect construction workers faced with the inherent dangers of the job.
The Law's purpose is to protect construction workers by imposing the duty of work site safety on the owner or general contractor rather than on the workers, who are not in a position to protect themselves from accident.
The law reinforces the common-sense approach that the owner and general contractor is best suited to properly equip and control the work site appropriately to protect the workers against the serious risks of the job.
While there have been ongoing efforts by groups to revise the Law, the Scaffold Law has retained much of its intended meaning and was last amended in 1969.
The historic Scaffold Law is simple in theory; it requires employers, contractors, property owners, and others on construction sites to ensure the safety of laborers who perform work that is exposed to the gravity related danger or either falling from a height or being struck by falling materials that are improperly hoisted or secured. With falls far long being one of the most pressing workplace dangers, lawmakers in 1885 knew that as buildings and new construction in NYC rose ever higher, so did the risks for workers (and to a large degree the families who depended on them).
Today, Labor Law § 240 applies broadly to require that all "contractors and owners" to provide scaffolds, hoists, ladders and other devices to workers performing work such as "erection, demolition, repairing, altering, painting, cleaning or pointing of a building or structure".  The Law requires owners and contractors to provide safety devices to workers that would give "proper protection" to them from the risks posed by gravity, such as falling from a height, falling from ground level to a level below and/or being struck by objects or materials that have fallen from above.  The Law does not apply to owners of 1 or 2 family homes that do not direct or control the work.
Among Labor Law 240's specific provisions are employer requirements related to:
Falling objects (proper mounting of tools, hoisting and/or securing of materials, etc.)
Falls from heights (appropriate protective equipment, guardrails, harnesses, fall protection etc.)
Structure collapse / unstable materials (adequate maintenance, site checks, etc.)
Liability for Height-Related Injuries in New York
Should workers suffer harm as a result of § 240 violations, the law holds owners and contractors liable – provided plaintiffs are able to prove violations occurred, and that they were the cause of injury.
While New York's Scaffold Law is one hailed by unions and safety advocates as a major victory in the Labor Movement, it's become the target of many attempted revisions and repeals. Those who oppose the law – typically corporations or special interests with money on the line – claim it is antiquated and prejudicial to employers and property owners, absolves workers of personal responsibility, and results in large payouts and insurance premiums that are bad for business.
In response to these types of claims, advocates argue that eroding the Scaffold Law would reduce incentives for employers and owners to take all reasonable precautions for height-related hazards, and potentially open the door to shortcuts which endanger workers and disproportionately impact minorities and immigrants, who are most likely to work non-union jobs with companies that don't provide adequate training or equipment.
At a time when falls and falling objects are the leading causes of death on construction sites, rates of workplace deaths are rising in NYC, and OSHA may be doing less to protect workers – it's important to "zoom out" and understand the purpose of these protections and deterrents. As the numbers make clear, unscrupulous companies that care more about profits than people will still take shortcuts and commit violations at the expense of worker safety. Erosions to the law would only open the door to more egregious violations, and more of them.
Fighting for Injured Construction Workers Across NYC
David Perecman and the attorneys at The Perecman Firm, P.L.L.C., have worked endlessly to advocate for the rights of injured construction workers.  We believe that the sentiment behind the Scaffold Law – that human life is more important than business, buildings, and profits – is and always should be the most important consideration when it comes to workplace protections. It's what The Perecman Firm, P.L.L.C., has fighting for since 1983.
If you have questions about a scaffold accident or any other construction accident in New York City, our attorneys are available to help. Call (212) 577-9325 or contact us online for a free consultation.