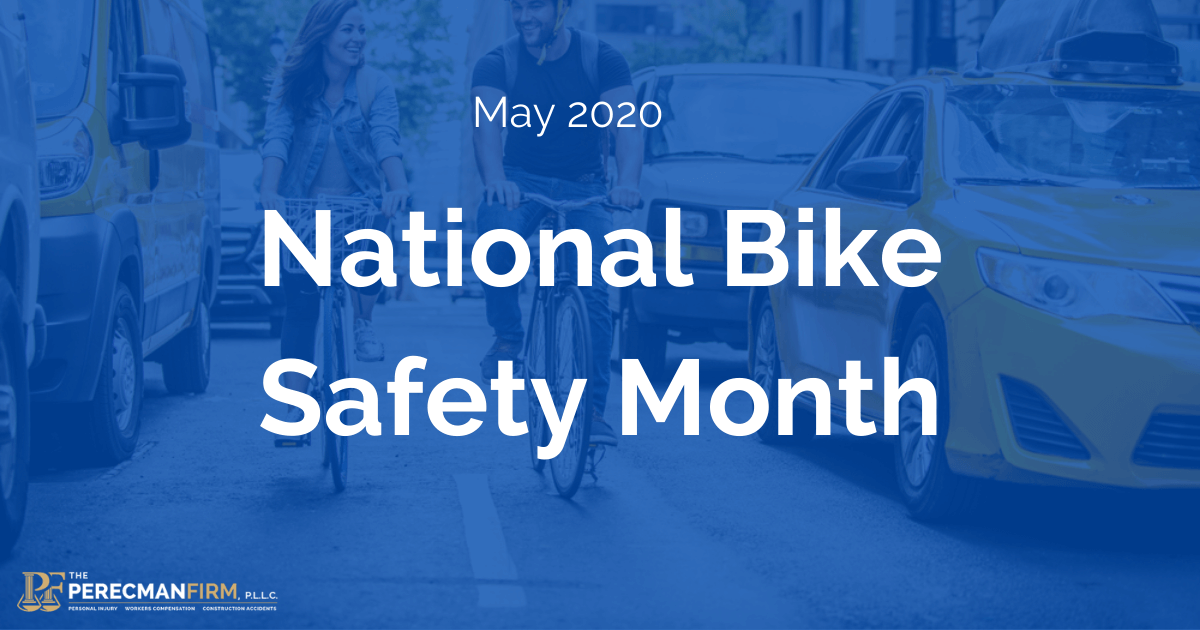 The month of May is National Bike Safety Month, and our team at The Perecman Firm, P.L.L.C., is happy to support a great initiative that keeps riders safe on local roads – especially as we ease our way into a new normal.
As the nation begins to slowly reopen businesses and relax stay-at-home orders amid warmer weather, New Yorkers will likely want to spread their wings and hit the pavement on their bikes. While that means more riders on the road, it also means more motorists, including drivers who may be nervous behind the wheel from not driving as frequently in high-traffic areas during quarantine.
To help everyone stay free from harm, bike riders, motorcyclists, and drivers should all remember to put safety first when it comes time to venture out – and take a few precautions to avoid bicycle accidents which can result in serious injuries.
Bicycle Accident Statistics
As statistics from the National Highway Traffic Safety Administration (NHTSA) and NYC DOT's Bicycle Crash Data Report make clear, bicyclists face some of the most pressing dangers on public roads:
In 2018, 857 bicyclists were killed in motor vehicle crashes nationwide.
In 2017, 25 bicyclists were killed and over 4,800 injured in NYC.
Brooklyn and Manhattan see the most fatal bicycle accidents of any borough.
The overwhelming majority of cyclist fatalities in NYC occur at intersections.
While NYC has struggled with bicycling safety in the past, officials have pledged to reduce numbers of cyclist injuries and deaths, and improve bike-friendliness on city streets. New York's Vision Zero program, which is slated to add more protected bike lanes, update street design, and support legislation that better protects riders, is one way the city is aiming to improve cycling safety.
Tips for Bike Riders
Helmets: Always wear a proper-fitting helmet that meets U.S. Consumer Product Safety Commission (CPSC) standards.
Pre-Ride Checks: Before heading out, take time to inspect your bike, checking for proper fit and function, and the condition of tires, brakes, handlebars and seats.
Ride with Traffic: Cyclists should ride in the same direction as motor vehicle traffic, and be predictable by riding in a straight line and using hand signals when turning or changing lanes.
Follow the Rules: Obey traffic signals, signs, and lane markings, and follow local laws regarding turns, bike lanes, drug or alcohol impairment and other traffic safety standards.
See and Be Seen: Riders should always stay focused and look ahead for traffic and obstacles in their path, and wear bright colors and use reflective materials and lights on bikes to be seen at night or in low-light conditions.
Tips for Motorcyclists
Be Alert: Staying alert and vigilant when on a motorcycle not only protects you from distracted or negligent motorists, but also bicycle riders whom you may not easily see.
Avoid Lane Splitting: Lane splitting may be legal in some states, but it is not in New York. Stay within your lane and pass only when it's safe to do so (and never in bike lanes).
Prepare to Yield: Always slow down and prepare to yield to bicyclists or pedestrians at intersections and crosswalks; never pass vehicles stopped at a crosswalk, as there may be cyclists or people you can't see.
Share the Road: Remember that bicyclists, just as motorists, have the same rights as motorcycle riders. Share the road and ensure you provide adequate space when passing bike riders.
Obey the Law: Obey traffic signs, signals, and traffic laws meant to keep you and those around you safe, including laws prohibiting distractions or riding under the influence.
Tips for Drivers
Passing: Pass bicyclists with care, and allow at least 3 feet of clearance when passing.
Look for Riders: Bicyclists can be easily overseen, so be sure to take your time and look for cyclists before opening vehicle doors, pulling out from parking spaces or making turns.
Yield: Motorists should yield the right of way to bicyclists at intersections and as directed by signs and signals.
Respect Bike Lanes: Don't use designated bike lanes for parking, passing or turning.
Avoid Distractions: Texting, selecting music, and other forms of distracted driving behaviors can command multiple forms of your attention and substantially increase crash risks. Avoid it.
Steps to Take Following an Accident
If you or someone you love has been injured in a bicycle accident, there are certain steps you can take to ensure your health and well-being (or that of your loved ones) and protect your rights should you choose to pursue legal action at a later time. A few steps to consider:
Seek immediate medical treatment or a complete medical evaluation following crashes, even if you think you can tough it out; some injuries may not be felt immediately, but can quickly turn into medical emergencies.
Follow up with a medical professional, and listen to your doctor's instructions regarding your treatment, therapy and other recommendations for your recovery.
Never discuss fault, accept blame, or apologize; doing so can be taken out of context and used to argue that you were at fault for a crash, even if you weren't.
Know that you do not have to speak with insurance companies when they call. As corporations, insurance carriers often want to quickly settle a case (even before you know your full damages), or get you to say something that can be used against you.
Gather and save all documentation related to your crash (including contact information, insurance info, and photos from involved parties and witnesses), your medical records and details of treatment and other matters impacted by your accident – they may be important to your injury claim.
Speak with an experienced injury lawyer who can help you better understand your rights and assist you in navigating the personal injury claim process.
Legal Rights and Remedies for Accident Victims
Bicyclists injured in preventable accidents have the right to seek compensation for their damages – including compensation for medical bills, pain and suffering, lost wages, and more.
By pursuing civil personal injury claims, you can hold at-fault parties accountable for negligently causing a crash that could and should have been prevented. This includes:
Negligent, distracted, or impaired drivers;
Distracted pedestrians;
Property owners responsible for dangerous conditions on their premises;
Manufacturers of defective products or bicycle parts;
Government entities or third parties responsible for poorly maintained roads, roadway defects, and unsafe street design.
Personal injury lawsuits are fact-specific matters, meaning every case is unique. At The Perecman Firm, P.L.L.C., we encourage victims with potential claims to reach out to our team as soon as possible for a personalized case evaluation. During an initial case review, we can evaluate your accident, discuss whether you may have grounds for legal action and explain what we can do to help.
The Perecman Firm, P.L.L.C., has been fighting for injured victims and families across New York since 1980 and our attorneys have recovered over $500 million in compensation for our clients. We're available to discuss your rights and options during a FREE consultation. Contact us.