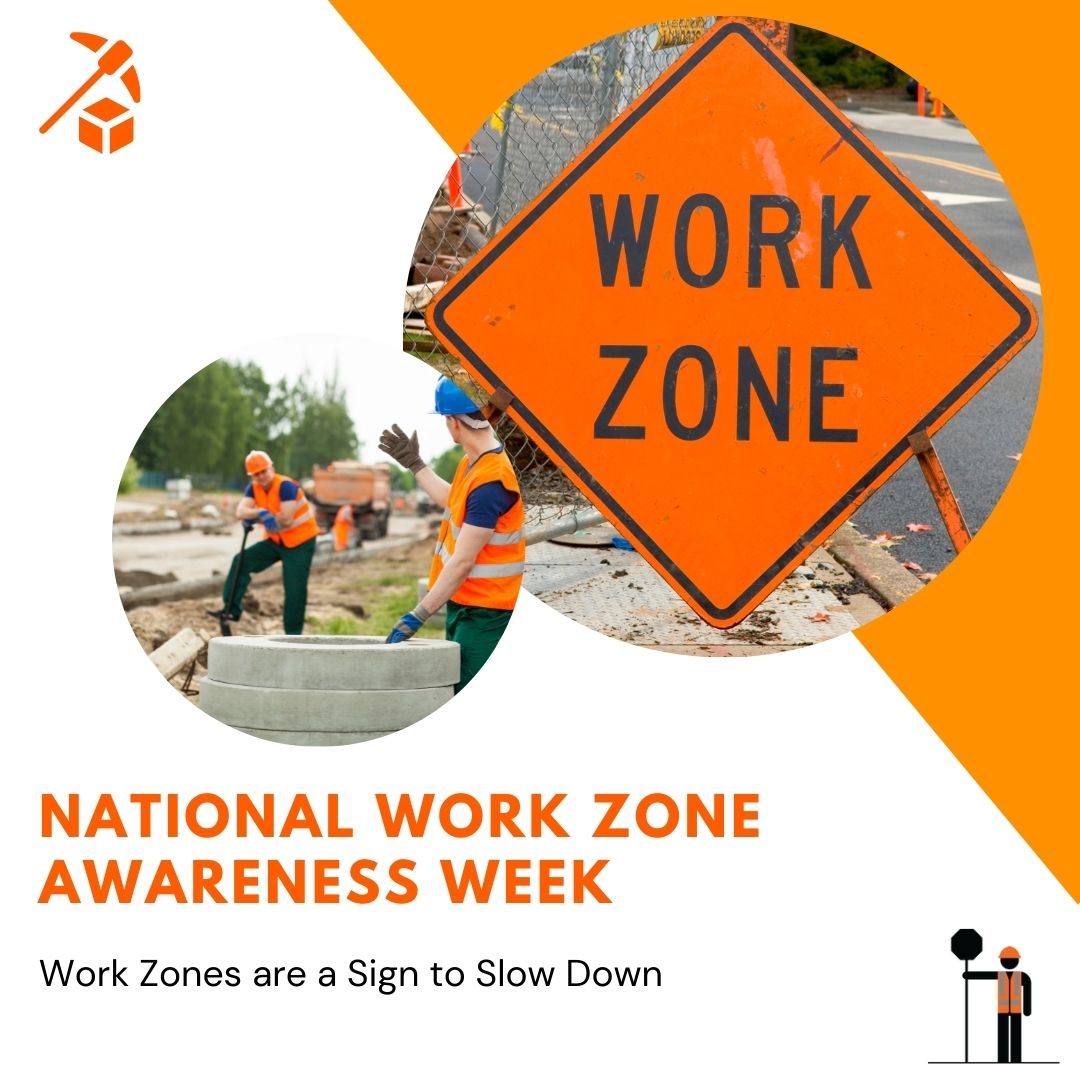 April 11-15 is National Work Zone Awareness Week (NWZAW), and our team at The Perecman Firm, P.L.L.C., is happy to share information to help reduce accident and injury risks in construction zones.
Whether you're a motorist or a worker, we also encourage you to visit NWZAW.org to find helpful resources and learn how you can participate in the week ahead.
Work Zones are a Sign to Slow Down
The theme for National Work Zone Awareness Week 2022 is Work Zones are a Sign to Slow Down.
Work zone crashes are frequently caused by drivers who fail to slow. This includes motorists who speed above the posted limit, drive too fast for prevailing conditions, or drive distracted and fail too slow before it's too late.
According to the NY State Work Safety Awareness program, drivers have an obligation to pay extra attention, adjust speeds accordingly, and take every precaution possible to keep themselves and construction and maintenance workers safe. Some important New York laws for driving in work zones:
Motorists are required to slow down when approaching and driving through work zones.
Motorists are required to move over one lane, if safely possible, for vehicles along the road displaying red, white, blue, amber, or green lights. This includes emergency response vehicles, to trucks, and highway construction and maintenance vehicles.
Work Zone Accident Statistics
Work zones are used to partition active construction and maintenance projects from areas with pedestrian and vehicle traffic, such as walkways, highways, and other important infrastructure. Though they are a common sight, they're also among the most dangerous places on our roads.
Here are a few key statistics from 2020:
857 total work zone deaths nationwide.
156 pedestrian fatalities in work zones.
244 commercial vehicle-involved crashes.
44,000 estimated work zone injuries.
102,000 estimated total work zone crashes.
The pattern is similar in New York, which saw 203 crashes in work zones on state roads and bridges, resulting in 48 injuries to motorists, contractors, and NYSDOT staff.
Work Zone Hazards
Workers and motorists face several hazards near and in work zones.
Motorist hazards:
Rear-end accidents
Merging / unsafe lane changes
Commercial vehicle accidents
Pedestrian accidents
Worker hazards:
Struck by vehicle
Struck by commercial vehicle
Falls from heights
Angry motorists / workplace violence
Avoiding Work Zone Accidents
There are several steps motorists, workers, and employers can take to avoid work zone accidents and reduce risks of injury or death.
Tips for Drivers
Pay attention. It's important to stay alert when driving through work zones, both to spot risks created by other vehicles and risks involving workers and construction projects.
Reduce your speed. Work zones are busy places, which means there's a risk for unexpected vehicles, people, or objects coming into the road. Even if areas look clear or traffic appears to be moving, reduce your speed when approaching a work zone and be ready to react if necessary.
Avoid distractions. Avoiding distractions behind the wheel is important in work zones, where traffic can quickly slow or stop and workers or vehicles may enter or travel near roadways.
Plan ahead. Whether it's a road trip or your customary route, plan ahead and be aware of any constructions projects or road closures you may encounter. You can choose an alternate route or give yourself ample time to deal with any delays.
Brush up on your skills. The NY DOT has a great online resource that offers an interactive experience to practice driving in work zones. It uses video game technology to teach the dos and don'ts of driving through construction zones, and features an interactive quiz to test your knowledge of road signs. Try it out here.
Tips for Workers & Employers
Use TTCD. Always provide and use proper Temporary Traffic Control Devices (TTCD). Place, relocate, and remove TTCD when traffic is light, install from first to last and remove from last to first, prohibit workers on foot from operating behind backing vehicles, and plan moving work zones with proper mobile warning devices.
PPE. Provide and use PPE for work zone projects. This includes Class III or II high-visibility garments, fall restraint or guardrails, shadow vehicles, automated TTCD deployment services, and a means to communicate with supervisors or law enforcement.
Create safe job sites. Site owners and contractors have a responsibility to create safe work sites free from unreasonable risks. Create compliance plans, conduct training, and follow other job safety best practices to keep workers safe on the job. Give special attention high-risk work duties and occupations, including work from ladders and heights and excavation.
Create a Smart Work Zone (SWZ). Implement SWZ technology for dynamic management of work zone traffic impacts, including queue and speed management.
Know how to deal with the public. Dealing with motorists and pedestrians isn't always easy, especially when work zones create delays. As a worker, it's important to remain calm, keep yourself visible in well lit areas, make sure you can communicate with co-workers if you need help, and follow protocol for events of violence.
Fight fatigue and distraction. Maintaining situational awareness on a job site is difficult even when rested and refreshed, and nearly impossible when you're drowsy or distracted. Be sure to get adequate rest and to avoid distractions like cell phones when working on highway sites.
What to Do If You're Injured in a Work Zone
If you or someone you love are injured in work zone accident, take the following steps:
Seek immediate medical care.
Obtain contact information from all involved parties.
Follow your doctor's recommendations and continue treating.
Know that you do not have to speak with insurance companies; a lawyer can handle communications with insurers on your behalf.
Speak with a qualified attorney about your rights and legal options.
At The Perecman Firm, P.L.L.C., our NYC lawyers have been fighting for victims of vehicle accidents, construction accidents, and auto accidents in construction zones since 1983. We serve all five boroughs and offer FREE consultations. To learn more about your rights and how we can help, call (212) 577-9325 or contact us online.